ILABO – ROSS LOVEGROVE for UNITED NUDE
Design: Ross Lovegrove
Computational Design: Arturo Tedeschi, Maurizio Degni
April 2015
British designer Ross Lovegrove worked with Grasshopper software expert Arturo Tedeschi to create the tall fine mesh that shrouds the sole and the wearer's foot like a curtain, and opens at the toe and heel.
"The freedom afforded by the unbridled free form sculpting of advanced 3D printing is totally invigorating and emotionally stimulating; a new World of aesthetics that from the inception of the software, our studio has endeavored to be a the forefront of optimizing this potential within the field of Industrial Design for the last 15 years born out of architectural academic process and research into natural phenomenology rather than the self referential stagnating World of design.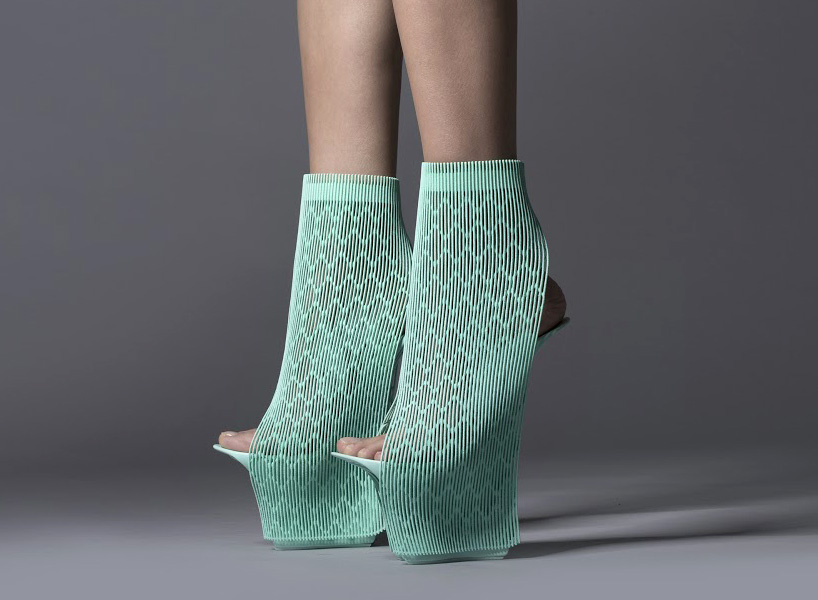 We have entered a second renaissance that is like a spaceship moving away from an analogue Earth into a Nebula of extraordinary abstract beauty that will lift our psyche to new limits of speculation and biomimetic understanding…..closer in fact to our true instinctive view of a non linear World.
So, mindful of this moment of divergence I have sought to ground my concept on core female anatomical beauty first scanning the foot to retain the sophisticated surfaces that hard and soft physiognomy can naturally provide.
This is a fundamental principle in all of my work as form and structure is generated from genesis principles that guide and hold the concept true to its objectives.
Remaining sincere to the optimized possibility that advanced software can provide my shoe seeks to benefit from a structured underlying design process that innovates through systematic modeling and remodeling to find a point of convergence between all things considered.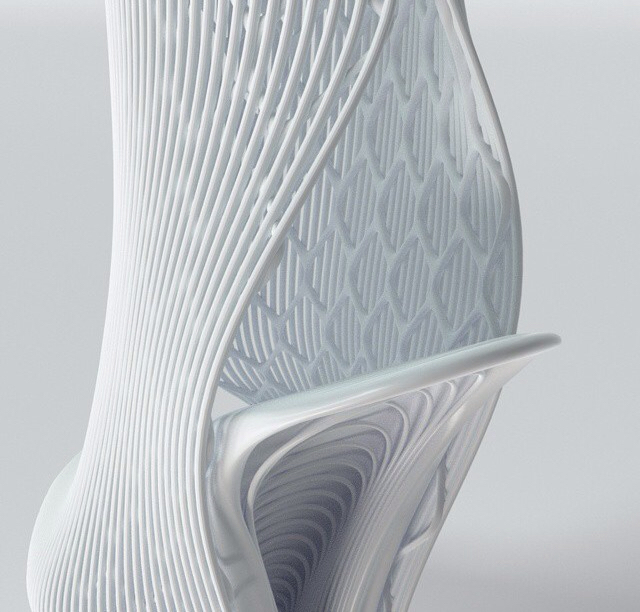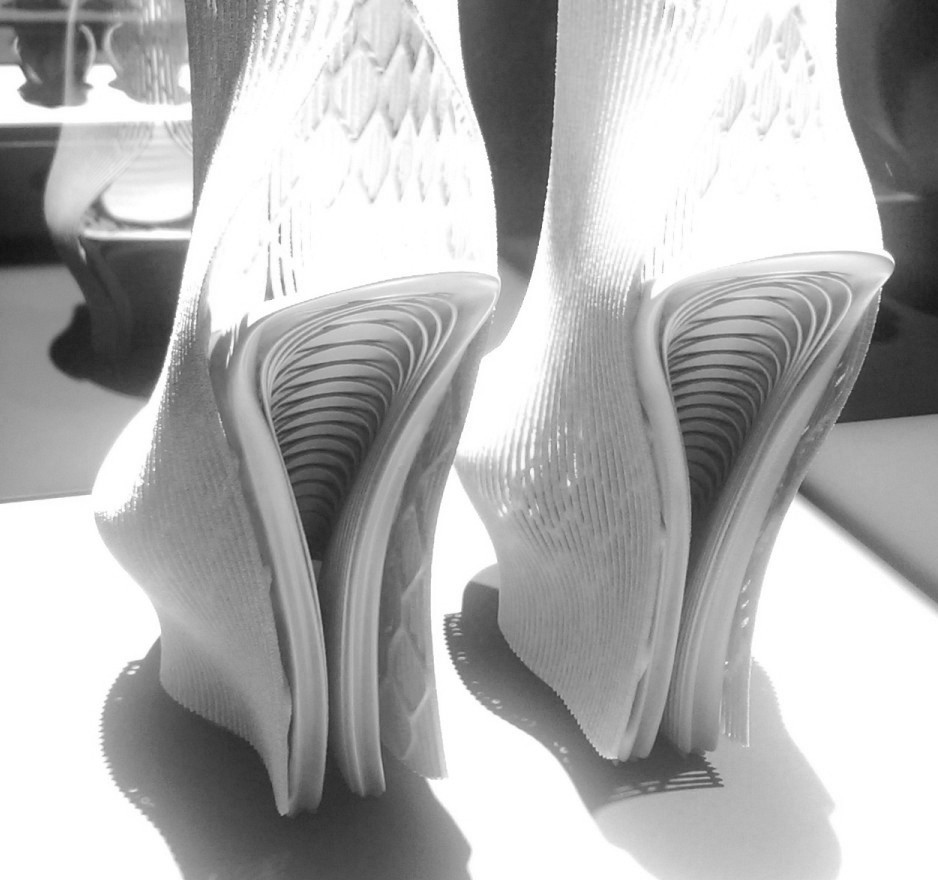 I have used this project to establish a moment where physical innovation in materials density and layered matrix node structuring, are coalesced to enhance the sensuality of the female form whilst remaining clearly technological. Ultimately the shoe has been truncated to extending the perception of verticality and in doing so eliminate weight and mass which for me is a symbol of decadence.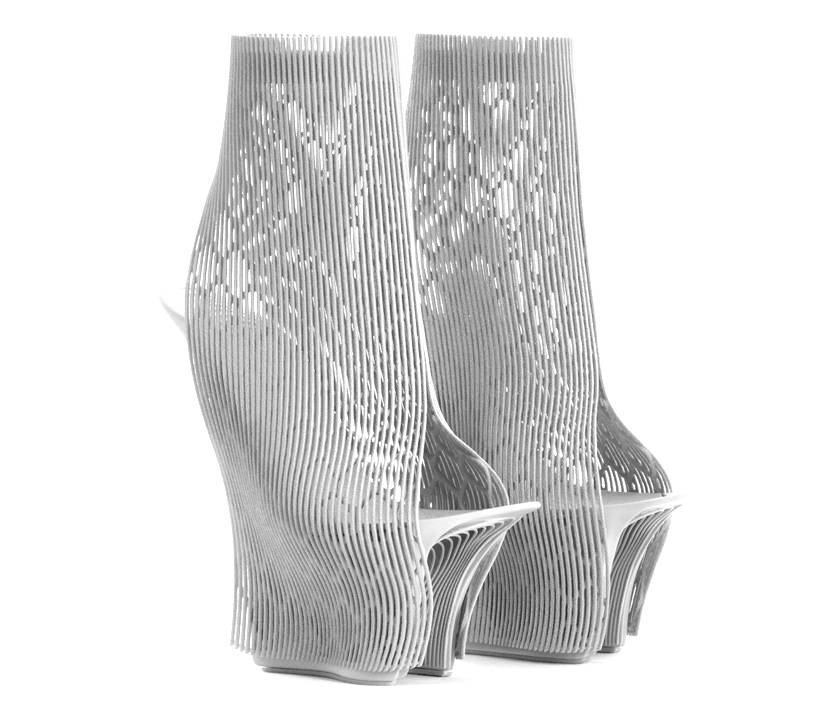 The filaments or hairs have been modeled using particle systems and attraction-repulsion logistics paralleling the bionic geometry of the foot.
The complex tridimensional polygon mesh provides what is termed a Watertight Geometry whereby nothing is extraneous either in material volume or functional characteristic. This modeling convergence benefits from the dynamics of gravity and particle attraction hence the subconscious references to the cosmos and the greater forces of attraction and repulsion".
Ross Lovegrove
ROSS LOVEGROVE is a designer and visionary who's work is considered to be at the very apex of stimulating a profound change in the physicality of our three dimensional world. Inspired by the logic and beauty of nature his designs possess a trinity between technology, materials science and intelligent organic form, creating what many industrial leaders see as the new aesthetic expression for the 21st Century. There is always embedded a deeply human and resourceful approach in his designs, which project an optimism, and innovative vitality in everything he touches from cameras to cars to trains, aviation and architecture. Born 1958 in Cardiff, Wales.Graduated from Manchester Polytechnic with 1st Class BA Hons Industrial Design in 1980. Master of Design of Royal College of Art, London in 1983. In the early 80's worked as a designer for Frog Design in West Germany on projects such as Walkmans for Sony, Computers for Apple Computers, later moved to Paris as a consultant to Knoll International, becoming author of the highly successful Alessandri Office System. Invited to join the Atelier de Nimes along with Jean Nouvel and Phillipe Stark, consulting to amongst others Cacharel, Louis Vuitton, Hermes and Dupont. Returning to London in 1986 he has completed projects for amongst others Airbus Industries, Kartell, Ceccotti, Cappellini, Idee, Moroso, Luceplan, Driade, Peugeot, Apple Computers, Issey Miyake, Vitra,Motorola,Biomega, LVMH,Yamagiwa Corporation, Tag Heuer, Hackman, Alias, Herman Miller, Renault, Artemide, Japan Airlines and Toyo Ito Architects in Japan. Winner of numerous international awards his work has been extensively published and exhibited internationally including the Museum of Modern Art in New York, the Guggenheim Museum NY, Axis Centre Japan, Pompidou Centre, Paris and the Design Museum, London, when in 1993 he curated the first Permanent Collection.
Pushing the boundaries of shoe design with the latest materials and most advanced 3D printing technology.
UNITED NUDE – leading footwear brand, and 3D SYSTEMS – the inventor's and leaders of 3D Printing, are joining forces for a major collaboration project + exhibition, which is to be launched at Salone del Mobile 2015 (14th – 19th of April) in Teatro Arsenale, Via C.Correnti 11 – Milan. A select group of 5 of the worlds leading architects and designers explore and challenged 3D printing technology bydesigning 3D printed ladies high heels.
| | |
| --- | --- |
| Ben van Berkel |       Architect |
| Zaha Hadid | Architect |
| Ross Lovegrove | Designer |
| Fernando Romero | Architect |
| Michael Young | Designer |
_
The Re-Inventing Shoes project is about exploring and pushing the boundaries of this rapidly developing technology by creatingshoes with the largest amount of sculptural freedom. The production method used is the highest quality of 3D printing (SelectiveLaser Sintering) in a hard Nylon and all-new soft Rubber material. UNITED NUDE have figured out a way to combine harder andsofter 3D printed parts for creating fully functioning shoes. Each shoe will be available as a up to 50 pair limited edition.