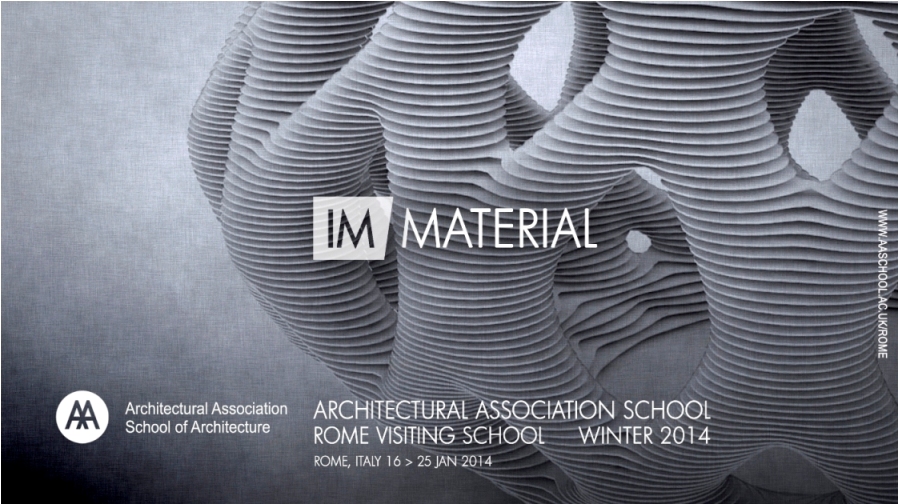 AA Rome Visiting School – IM/Material
Rome, Italy
Thursday 16 – Saturday 25 January 2014
Michelangelo Buonarroti said  'I saw the angel in the marble and carved until I set him free'. Through the use of material he could represent at least three immaterial substances: his subconscious, the negative mass surrounding the sculpture and a parallel world where material is forbidden.
Has Architects' engagement with virtual space meant a vanishing sensitivity towards material and other immaterial realms?
The AA Rome Visiting School 10 day workshop encourages the observation of material elements and their use in the design of architecture featuring subconscious experiences, spatial voids and virtual communities.  Students will investigate modern materials and their digital fabrication by direct experience. They will work with algorithms and sensors able to recognise and respond to human feelings and attitudes. Students will feed novel expressions of void spaces into the Roman tradition featuring examples like the ancient catacombs and the Nolli map. Through augmented reality design the projects will open a window into an digital virtual world.
By the end of the workshop students will unveil their interpretation of the material/immaterial form hidden in the real matter.
Applications
1) You can make an application by completing the online application found under 'Links and Downloads' on the AA Visiting School page. If you are not able to make an online application, email visitingschool@aaschool.ac.uk for instructions to pay by bank transfer.
2) Once you complete the online application and make a full payment, you are registered to the programme. A CV or a portfolio is not required.
All participants travelling from abroad are responsible for securing any visa required, and are advised to contact their home embassy early. After payment of fees, the AA School can provide a letter confirming participation in the workshop.
Fees
The AA Visiting School requires a fee of £695 per participant, which includes a £60 Visiting membership fee.
Fees do not include flights or accommodation, but accommodation options can be advised. Students need to bring their own laptops, digital equipment and model making tools. Please ensure this equipment is covered by your own insurance as the AA takes no responsibility for items lost or stolen at the workshop.
Eligibility
The workshop is open to current architecture and design students, phd candidates and young professionals. Software Requirements: basic knowledge of Rhinoceros or other 3D modeling software.
Venue
Galleria "Come Se", via dei Bruzi 4, 00185 Roma, Italy
Partners